Brother MFC-J995DW Driver and Software
Brother MFC-J995DW Driver, Software and Firmware
The Brother MFC-J995DW INKvestment Tank All-in-One Wireless printer comes with the advantage of ink tank system technology that lasts up to 1 year, similar to the Brother MFC-J4335DW. It is also equipped with connectivity and high performance making it suitable for offices, businesses, schools and homes with full functionality. In addition, its compact size makes it easy for you to put it on your desk or anywhere you want. It also provides an automatic document feeder, so you can easily copy and scan multiple pages at speeds up to 6 ppm.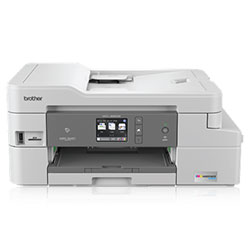 Connectivity and Performance
The Brother MFC J995DW printer offers efficiency and effectiveness with wireless printing features from smart devices such as iPhone, iPad, Android and other supported devices. In addition, it offers a Wireless 802.11 b/g/n interface, Ethernet, NFC, Wi Fi Direct, and Hi-Speed ​​USB 2.0 for sharing the printer with other users in your work environment. It also supports cloud printing including Google Drive, Microsoft OneDrive, OneNote, Evernote and also DropBox. Moreover, cloud printing via smartphone requires the use of the AirPrint, Brother iPrint&Scan, and Mopria applications.
The Brother J995DW also provides automatic duplex printing (2-sided) to save you paper usage. Of course, the Brother J995DW printer delivers high-yield prints, both photos and documents. But to get professional results, you need to use genuine ink cartridges from Brother. In conclusion, the Brother MFC J995DW All-in-One Wireless Printer is the solution for users who need high performance and efficiency for printing color documents and photos in a compact design.
Brother MFC-J995DW Driver supports the following OS:
Windows 11 (x64/x86), Windows 10 (x64/x86), Windows 8.1 (x64/x86), Windows 7 (x64/x86), Windows Vista (x64/x86), Windows XP (x64/x86), Windows Server 2003/2008/2012 (x64/x86), Apple Mac OS, Linux, Ubuntu 12.0, Novell SuSE Linux ES, and also RedHat Enterprise.
How to Download and Install Brother Printer Drivers
Click Download Driver Files on the link below, then the File Download window appears, click Save and click OK.
While the Download Complete window appears, click Close. After that unzip the file, run setup and follow your on-screen installation instructions.
When the installation finish window apprears, press the Test Print menu. If the Driver installed successfully,  then the printer will respond to your commands.
Brother MFC-J995DW Driver and Firmware for Windows
Brother MFC-J995DW Full Driver & Software for Windows (x64/x86)
Release date: 06/02/2020, Version: (F1)
File name: Y17A_C1_ULWT_PP-usa-inst-F1.EXE (472.47 MB)
Printer Driver & Scanner Driver for Windows (x64/x86)
Release date: 06/02/2020, Version: (J1)
File name: Y20B_C1-hostm-A1.EXE (51.22 MB)
Brother iPrint & Scan Software for Windows (x64/x86)
Version: 10.3.1.1, Release date: 06/30/2022
File name: iPrintScan-Setup-10_3_1_1.exe (328.91 MB)
BRAdmin Professional 4 for Windows (x86/x64)
Release date: 04/27/2023, Version: 1.14.0000
File name: Setup_BRAdminPro4_1140000.exe (97.28 MB)
Firmware Update Tool for Windows (32bit/64bit)
Release date: 07/28/2022, Version: (1.37)
File name: BrMain4813.exe (3.99 MB)
Brother MFC-J995DW Driver and Firmware for macOS
Brother MFC J995DW Full Software Package for macOS
Release Date: 02/03/2020, Version: (1.22)
Filename: Inkjet17_5_MiB_ULW_122_macOS1015.dmg (31.49 MB)
Brother MFC J995DW Basic Printer Driver for Mac OS X
Release Date: 10/01/2019, Version: (1.09)
Filename: BrotherPrinterDrivers_Inkjet17_2_1_0_9.dmg (18.40 MB)
iPrint&Scan Push Scan Tool for Mac OS
Release date: 12/20/2019, Version: (1.11.0.0)
Filename: BrotherPushScanTool_1_11_0_0.dmg (9.58 MB)
Firmware Update Tool for macOS
Release date: 10/08/2020, Version: (L)
File name: BrMain402.dmg (5.29 MB)
Brother MFC-J995DW Driver for Linux OS
Driver Install Tool for Linux driver
Release date: 01/22/2021, Version: (2.2.2-2)
Filename: linux-brprinter-installer-2.2.2-2.gz (0.02 MB)
Linux printer driver (rpm & also deb package)
Release date: 08/07/2018, Version: (1.0.5-0)
RPM package: mfcj995dwpdrv-1.0.5-0.i386.rpm (3.02 MB)
DEB package: mfcj995dwpdrv-1.0.5-0.i386.deb (3.02 MB)