Canon PIXMA G3260 Driver Software
Canon PIXMA G3260 Driver/Software Download
The Canon G3260 Megatank is an all-in-one printer with copy, scan and print features rivaling the HP Officejet 6970. The G3260 also supports printing from smartphones such as iOS devices (iPhone, iPad, Mac), Android and Windows Mobile. It can connect wirelessly from your favorite computer or mobile device using the Canon PRINT app, Apple AirPrint as well as Mopria.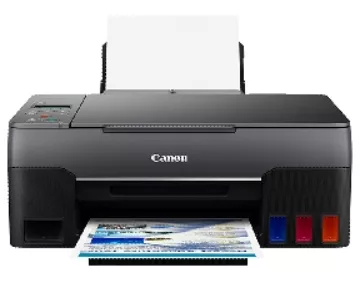 PIXMA G3260 MegaTank Technology
The Canon G3260 is suitable for office or home use with inkjet printing technology also supported by a hybrid ink system. In addition, the maximum print speed is 6 ppm color while monochrome 10.8 ppm. You can also enjoy ink savings with high-yield prints of up to 6,000 pages (black) and 7,700 pages (color). Moreover, to get satisfactory results you need to use genuine ink or cartridges which are available at the official Canon store.
Canon PIXMA G3260 Drivers supports the following OS:
Windows 11, Windows 10, Windows 8.1, Windows 7, Windows Vista, Windows XP, Windows Server 2003/2008/2012/2019/2022 (x64/x86), Apple Mac OS, Linux Ubuntu, Novell SuSE, RedHat Enterprise and also Android OS.
Download the complete Canon PIXMA G3260 drivers, software and firmware on the official website at the following link. This official site also provides all supported versions and operating systems including Windows, macOS, Android, Linux, etc. Visit Now.
Canon PIXMA G3260 Driver (Windows x64/x86)
G3260 series Driver setup package for Windows
Version: 1.3, Release date: 04/26/2022
Filename: win-g3060-1_3-n_mcd.exe (20.38 MB)
IJ Printer Assistant Tool for Windows (x64/x86)
Version: 1.80.1, Release date: 02/01/2023
Filename: pat_-win-1_80_1-ea34_2.exe (12.07 MB)
Canon PIXMA G3260 Driver/Software (Mac)
IJ Scan Utility Lite for Mac OS
Version: 4.0.1, release date: 12/07/2022
Filename: msul-mac-4_0_1-ea21_3.dmg (23.86 MB)
Canon Inkjet Smart Connect for macOS
Version: 4.0.1, release date: 12/07/2022
Filename: mCSC-mac-1_1-ea21_3.dmg (10.67 MB)
Easy-PhotoPrint Editor for Mac
Version: 1.7.5, release date: 12/07/2022
Filename: mepd-mac-1_7_5-ea11.dmg (361.04 MB)
Wi-Fi Connection Assistant for Mac
Version: 1.7.0, release date: 12/07/2022
Filename: mdsu-mac-1_7_0-ea21_3.dmg (37.10 MB)
Canon PIXMA G3260 Software (iOS and Android)
Android PRINT Inkjet/SELPHY – Download
Apple (iOS) PRINT Inkjet/SELPHY – Download
Print Service (Android) – Download
Creative Park (iOS) – Download
Canon PIXMA G3260 Driver or Software (Linux)
Canon PIXMA G3260 Printer Drivers and Software including RPM, DEBIAN and Source Files for Linux/Unix Operating Systems can be downloaded on the following page, Canon Drivers for Linux.
How to Download and Install Canon Printer Drivers
Click Download Driver Files on the link below, then the File Download window appears, click Save and click OK.
While the Download Complete window appears, click Close. After that unzip the file, run setup and follow your on-screen installation instructions.
When the installation finish window apprears, press the Test Print menu. If the Driver installed successfully,  then the printer will respond to your commands.