Dell E515dn Driver and Firmware Download
Dell E515dn Driver, Firmware and Software
Dell E515dn MFP is different from the E515dw type, the difference is in the embedded network features. This difference can be seen in the series at the end of the printer type using DW and DN codes. DW means Duplex and Wireless, while DN stands for Duplex and Network. In fact, Dell E515dn printer has the same features compared to the E515dw, only wireless features are not embedded in the DN series.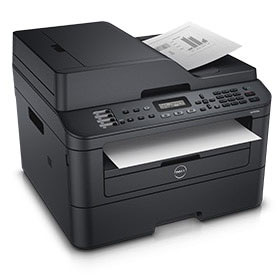 Professional Quality
The E515dn printer also offers multifunctional features which it let you easy to manage print job wherever you need. In addition, the Dell E515dn MFP also offers a 250-sheet main tray, single-sheet manual feed, and a duplexer for two-sided printing and automatic document feeder (ADF).
Moreover, Dell E515dn only features USB and Ethernet connections without Wireless. So, the E515dn printer cannot print and scan via mobile devices such as iOS, Android and Microsoft smartphones. But, it's allow you to print and scan anywhere while connected to the internet via Ethernet port.
Dell E515dn Driver supports the following OS:
Windows 11 (x64/x86), Windows 10 (x64/x86), Windows 8.1 (x64/x86), Windows 7 (x64/x86), Windows Vista (x64/x86), Windows XP (x64/x86), Windows Server 2003/2008/2012 (x64/x86), Apple Mac OS, Linux, Ubuntu 12.0, Novell SuSE Linux ES, and also RedHat Enterprise.
How to Download and Install Dell Printer Drivers
Click Download Driver Files on the link below, then the File Download window appears, click Save and click OK.
If the Download Complete window appears, click Close. After that unzip the file, run setup and follow your on-screen installation instructions.
When the installation finish window apprears, press the Test Print menu. If the Driver installed successfully, then the printer will respond to your commands.
Dell E515DN Driver, Software and Firmware for Windows
Dell E515dn Software Suite and Driver – Windows (x64/x86)
Version: 1.1.0.1 (A04), Release date: 18 Jul 2017
File Name: Printer_E515dn_Application_ALL_Dell_A04_WIN.zip (125.36 MB)
Dell Multifunction Printer E514/E515 Drivers – Windows (32bit/64bit)
Version: MR3 (A00), Release date: 17 Sep 2015
File Name: Printer_E514_E515_Drivers_Dell_A00_WIN.zip (39.63 MB)
Dell MFP E515dn/dw Firmware for Windows and macOS
Version: J1908061023 (A07), Release date: 24 Sep 2020
File Name: Printer_E515_FW_Dell_A07_WIN.zip (11.22 MB)
Dell Open Print Driver for Windows (x64/x86)
Version: A16 (A16), Release date: 11 Oct 2017
File Name: Software_OPD_Dell_A16_Win.zip (13.43 MB)
Dell E515DN Driver Software for Apple macOS
Dell E515dn Printer Driver (Mac OS X)
Version: 4.0.7 (A03), Release date: 25 Mar 2019
File Name: Printer_E515dn_Driver_Dell_A03_MAC.dmg (14.36 MB)
Dell E515DN Drivers for Linux OS
Dell E515dn Printer Driver for Linux OS
Version: V00 (A00), Release date: 20 Jul 2015
File Name: Printer_E515dn_Driver_Dell_A00_LINUX.zip (107.85 KB)