Brother DCP-L5500DN Driver and Firmware
Brother DCP-L5500DN Driver, Software and Firmware
The Brother DCP-L5500DN Business Laser All-in-One is a powerful printer for businesses and small offices. It offers print and copy speeds of up to 42 ppm and it is also cost effective with high yield toner. In addition, the DCP-L5500DN provides various conveniences such as easy sharing via an Ethernet interface. In fact, advanced security features protect your printer's access from unregistered network users.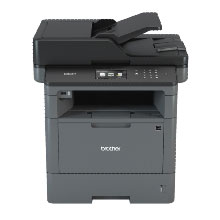 The Brother RDCP-L5500DN provides a flexible paper tray with a capacity of 250 sheets and a multipurpose tray with a capacity of 50 sheets. That's a big difference when compared to the Brother MFC-L2710DW. However, the color touch screen and scanning to cloud services are a special advantage for you.
Multifunction and Network
Moreover, Brother DCP-L5500DN All-in-One Laser Printer is capable of high quality printing, if you use genuine Brother toner cartridges. This multifunction machine also saves on expenses through its high-yield 8,000 page toner replacement. In addition, the DCP-L5500DN Laser offers scanning capabilities to E-mail, SSH Server (SFTP), USB, SharePoint, Cloud Services, and Network Folders (CIFS) to make your work easier. The DCP L5500DN printer is also capable of printing and scanning via supported mobile devices such as iPhone, iPad, Android and Windows Mobile. You must download the AirPrint, Mopria and Brother iPrint&Scan apps from the Apple AppStore or PlayStore.
Brother DCP-L5500DN Driver supports the following OS:
Windows 11 (x64/x86), Windows 10 (x64/x86), Windows 8.1 (x64/x86), Windows 7 (x64/x86), Windows Vista (x64/x86), Windows XP (x64/x86), Windows Server 2003/2008/2012 (x64/x86), Apple Mac OS, Linux, Ubuntu 12.0, Novell SuSE Linux ES, and also RedHat Enterprise.
How to Download and Install Brother Printer Drivers
Click Download Driver Files on the link below, then the File Download window appears, click Save and click OK.
While the Download Complete window appears, click Close. After that unzip the file, run setup and follow your on-screen installation instructions.
When the installation finish window apprears, press the Test Print menu. If the Driver installed successfully,  then the printer will respond to your commands.
Brother DCP-L5500DN Driver and Firmware for Windows
Brother DCP-L5500DN Full Driver & Software Package (Windows x64/x86)
Release date: 03/22/2021, Version: (C1),
File name: Y15C_C1_UL_PP-usa-inst-C1.EXE (408.84 MB)
Printer Driver & Scanner Driver for Windows (x64/x86)
Release date: 03/22/2021, Version: (J1)
File name: Y15C_C1-hostm-J1.EXE (39.92 MB)
Brother iPrint & Scan Software for Windows (x64/x86)
Version: 10.3.1.1, Release date: 06/30/2022
File name: iPrintScan-Setup-10_3_1_1.exe (328.91 MB)
BRAdmin Professional 4 for Windows (x86/x64)
Release date: 04/27/2023, Version: 1.14.0000
File name: Setup_BRAdminPro4_1140000.exe (97.28 MB)
Firmware Update Tool for Windows (32bit/64bit)
Release date: 07/28/2022, Version: (1.37)
File name: BrMain4813.exe (3.99 MB)
Brother DCP-L5500DN Driver and Firmware for Mac OS
Full Software Package for Mac OS X
Release date: 09/20/2019, Version: (1.12)
File name: MonoLaserFB15_UL_112_macOS1014.dmg (345.05 MB)
Brother DCP-L5500DN Printer Driver for Mac OS
Release date: 10/02/2019, Version: (1.6.0)
File name: Brother_PrinterDrivers_MonochromeLaser_1_6_0.dmg (38.65 MB)
Scanner Driver (ICA) for Mac
Release date: 05/18/2021, Version: 3.5.0
File name: Brother_ScannerDrivers_ICA_1_12_0.dmg (2.50 MB)
Firmware Update Tool for Mac OS
Release date: 05/13/2021, Version: (ZL/1.50)
File name: BrMain402.dmg (5.30 MB)